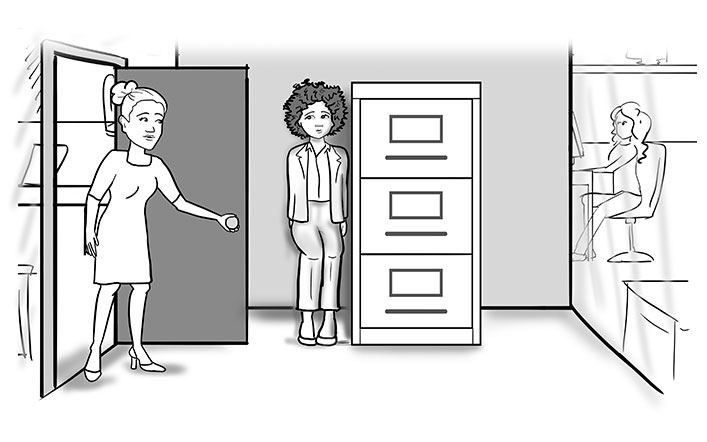 As I walked into my new office, on that cold Monday morning, I realised there was only a tiny corner where I wasn't visible, through the internal windows, to everyone else in the main open-plan office. I shut the office door and manoeuvred myself so I couldn't be seen. Taking deep breaths to try to stop my heart leaping out of my chest, I asked myself … "Oh God, what have I done?"
At that moment I knew I wasn't prepared … I wasn't ready and I wasn't experienced enough to be doing the job I had been given. The previous Friday I had left my desk in the open-plan office and today I was in the corner office. I knew nothing had changed over the weekend and any minute now someone would notice.
That was over twenty years ago but I haven't forgotten that moment.
I have got used to the feeling of not being entirely confident … I now recognise it as the precursor of great opportunities to come. The feeling of fear and excitement are the same, it is just what you label them that makes the outcome different.
My team of professional actors at 'Partners With You' have taught me their techniques to look and sound more confident. And I have trained with a number of experts working in the field of Neuroscience, to better understand what is actually going on in our brains and how to affect our behaviours and reactions.
Combined with this I have a lifetime of clients and colleagues who have taught me as much as I have been able to show them and of course the myriad of people whose paths have crossed mine. And to all of them I am grateful.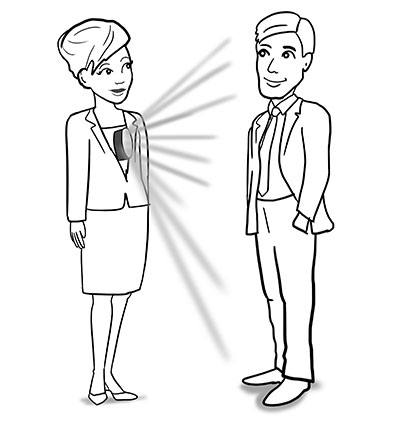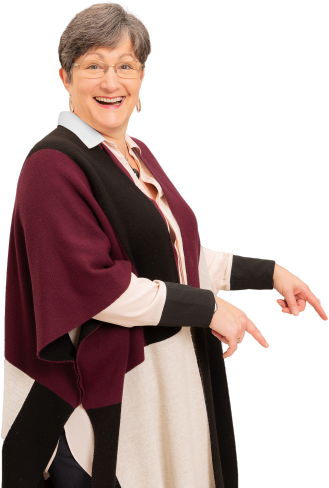 This book is an amalgamation of everything I have learnt and I'd love to share my knowledge, experience and expertise with you!
This book is for you if you have ever felt overlooked.
This book is for you if you feel there's more to you than others see.
This book is for you if you have ever held yourself back from speaking up in meetings, going for that promotion or taking that career risk.
This book if for you if you have lost money, credibility and self-esteem all because you haven't put yourself forward or taken that opportunity when it came.
This book is for you if you haven't had the chance to do any of the above … but think you might!
Don't make the mistakes I made … for just £12.99 plus P+P take my lifetime of experience and use the techniques included inside to make a difference to your communication skills now so that you are seen and heard at work.
By the end of this book you will have an action plan for your next steps to build respect and significance with the people you need to communicate with most.
Testimonial
"This book strikes the perfect balance of having just the right amount of content, including examples, anecdotes, and an Actions You Can Take at the end of each chapter."
CS
"At times it felt like this book was written just for me as I found myself nodding in agreement at the scenarios!I devoured the book in a couple of days but it will be one of those books that will have a special place on my bookshelf for me to refer to when I need a bit of a boost."
KA
"I was intrigued by the title of this book, probably due to my current work situ echoing and found myself downloading the Kindle version. I read a few pages...a few more and then found myself compelled to read it all (about 2hrs of easy-going copy, if you're an average reader like me), I think that's a good sign for a book!"
NR
" …well written, clear, encouraging and realistic with some great tips and insights and all doable."
DHP
"Of all the books I have read on confidence this is hands down the best one".
AS
"Clearly written, concise, to the point and to top it all, an easy read. It's one of those books that you can dip in and out of and also refer back to as and when. Definitely not one to leave gathering dust on the shelf!"
SM
"A very informative book that is so easy to read. I read it in one sitting"
AM
"It is really good and will appeal particularly to all those 'busy' souls who want their education to be in bite size chunks. I also like your conversational style of writing, it makes the material feel like a personal conversation."
CW